This is a continuing article series regarding Compliance with the Rules and Regulations on the Practice of Architecture. These include two topics, Requirements & Duties of Maintaining your Architectural License (Part 1), and Disciplinary Actions and Revocation of your Architectural License (Part 2).
All though becoming an architect may require more study time and experience than other industries, obtaining and maintaining your architectural license is a thorough, tedious process with requirements specific to State. And with those state requirements, it is important to follow good practice ethics. Otherwise, this can result in disciplinary action that could result in complex negative scenarios.
DEFINING THE PRACTICE OF ARCHITECTURE
 Section 7301 of New York Education Law defines the practice of architecture as follows:
The practice of the profession of architecture is defined as rendering or offering to render services which require the application of the art, science, and aesthetics of design and construction of buildings, groups of buildings, including their components and appurtenances and the spaces around them wherein the safeguarding of life, health, property, and public welfare is concerned.  Such services include, but are not limited to consultation, evaluation, planning, the provision of preliminary studies, designs, construction documents, construction management, and the administration of construction contracts.
Section 7302 of New York Education Law requires all individuals who practice architecture or use the title architect to be "licensed or otherwise authorized" to do so.
POWERS AND DUTIES OF THE NEW YORK STATE EDUCATION DEPARTMENT
 The Department of Education, which is headed by the Board of Regents of The University of the State of New York, manages education in New York State and carries out education-related laws and policies, including (as they relate to New York architects):
Establishing requirements for credentials and degrees
Determine licensing standards to practice professions, including education and texting requirements
Review applications to practice professions and issue licenses
Waive education, experience, or examination requirements after determining that a party has substantially met the requirements to practice a profession
Charter institutions to provide professional education
Audit professionals for compliance with continuing education requirements
Manage triennial registration of professionals
Establish standards of professional conduct
Investigate and resolve complaints of professional misconduct


REQUIREMENTS FOR LICENSING AND RENEWAL
LICENSING REQUIREMENTS UNDER NEW YORK EDUCATION LAW SECTION 7304
Application (filed with Department of Education)
Education (Bachelor's or higher degree in architecture)
Experience (satisfactory to the Board, totaling 8 years with college study)
Examination
Age (at least 21)
Citizenship (not required)
Good Moral Character (as determined by the Board)
Fees

$345 for examination and initial license
$175 for re-examination
$210 for each triennial registration
ALTERNATIVE DEGREE REQUIREMENT UNDER SECTION 7304
"12 years of architectural work of a grade and character satisfactory to the board" with each complete year of college (satisfactory to the board) counting toward two of those 12 years (but not exceeding 9 years toward the 12)
ALTERNATIVES TO EXPERIENCE AND EXAMINATION REQUIREMENTS UNDER SECTION 7304
10 years of lawful practice of architecture in another state (satisfactory to the board) and the passing of an examination (satisfactory to the board)
"A certificate of qualification issued by the national council of architectural registration boards on the basis of the fulfillment of requirements satisfactory to the board"
Under Section 7305 of New York Education Law, an architect licensed in another state or county may obtain a limited permit to practice in New York State for purposes of completing one specific project.
MAINTAINING LICENSING/RENEWAL
 New York Education Law Section 7308 requires licensed architects to begin mandatory continuing education after their first triennial registration period.
Mandatory continuing education during each three-year period:
36 hours of continuing education, 24 of which must relate to healthy, safety, and welfare
$45 continuing education fee (in addition to triennial registration fee)
Required for the issuance of the triennial registration statement
Licensed architects must also register with the Department of Education every 3 years. The Department of Education sends each licensee notice of her or his need to renew, and registration can be completed online at: http://www.op.nysed.gov/renewalinfo.htm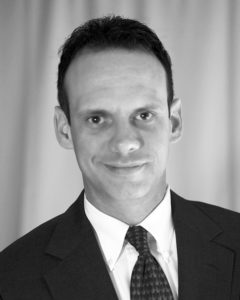 John Caravella Esq., is a construction attorney and formerly practicing project architect at The Law Office of John Caravella, P.C., representing architects, engineers, contractors, subcontractors, and owners in all phases of contract preparation, litigation, and arbitration across New York and Florida. He also serves as an arbitrator to the American Arbitration Association Construction Industry Panel. Mr. Caravella can be reached by email: John@LIConstructionLaw.com or (631) 608-1346.
The information provided on this website does not, and is not intended to, constitute legal advice; instead, all information, content, and materials available on this site are for general informational purposes only.  Readers of this website should contact their attorney to obtain advice with respect to any particular legal matter.  No reader, user, or browser of this site should act or refrain from acting on the basis of information on this site without first seeking legal advice from counsel in the relevant jurisdiction.  Only your individual attorney can provide assurances that the information contained herein – and your interpretation of it – is applicable or appropriate to your particular situation.  Use of, and access to, this website or any of the links or resources contained within the site do not create an attorney-client relationship between the reader, user, or browser and website authors, contributors, contributing law firms, or committee members and their respective employers.